Hydrocarbon fire
Hydrocarbon fire
Hydrocarbon fire occur when a flammable compound such as oil or gas leaks from a vessel or pipe and collects in a pool, hence they are sometimes called pool fires. The layer of volatile liquid fuel then evaporates and burns. If a hydrocarbon fire ignites, you have a very serious fire on your hands. Hydrocarbon fires will easily reach temperatures of over 1,100°C within a few minutes and, given the volatility of the oil, will spread extremely rapidly. Hydrocarbon fires are extremely serious for human life, the environment and equipment.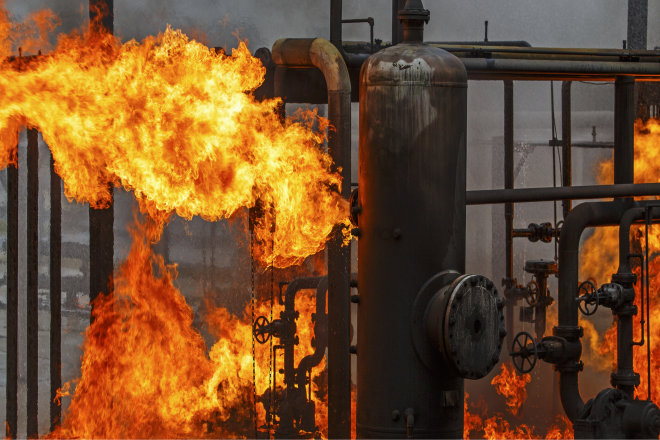 Contact us for more information
Hydrocarbon fire - Why is it so dangerous?
Given the nature of the petroleum extraction and processing industry, hydrocarbon fire is an inherent danger. Not only at the point of extraction, but also when stored in large quantities. The high heat release rate is associated with thermal radiation rates which determine safe distance to avoid burns. Furthermore, given the potential scale of hydrocarbon fires, rapid spread and their potential damage to the environment, human life and equipment, hydrocarbon fires must be contained immediately. Even better is to avoid them from occurring in the first place.
JetBlack® solutions for passive fire protection for hydrocarbon fires
The key to dealing with hydrocarbon fire is prevention. JetBlack® supplies customised passive fire protection solutions for the petrochemical and offshore industries. Its hydrocarbon fire solutions give a two hour containment window in which to deploy evacuation and fire fighting protocols. It uses special thick fire proofing materials and coatings to protect offshore and onshore petrochemical structures from hydrocarbon fires. All its solutions are customised, removable, and can be easily installed and refitted. They thus have many applications in the petrochemical and offshore industries.
How to implement the PFP solutions of JetBlack®
To prevent hydrocarbon fire a PFP solution has to be implemented. There are several steps to be taken to implement the solution and to ensure it is of high quality. First of all, we will inspect, control, and measure custom made systems. Second of all, we will make a thermal design. After that we will start designing and engineering. When that is finished we take care of the project documentation. Then it is time for manufacturing the solution and inspect it so it will be of high quality. From the factory it will be transported immediately to the site of the project and be installed. The final step is the quality control of the solution.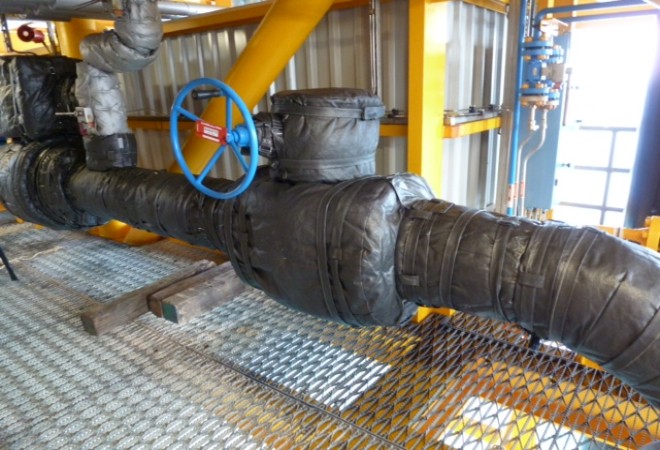 Contact us for more information
Certification for our pfp solutions
All JetBlack®'s customised passive fire protection solutions are ISO 22899 certified. Their flexible design also allows for regular inspection. Together with Bureau Veritas a Quality Assurance System has been set-up to ensure a continuous quality of work. Through this system we want to provide you with the best work possible and ensure that you are always prepared for a hydrocarbon fire.
Get in Touch with us
Are you interested in our PFP solutions and would you like to get more information? Please get in touch with us through the form on this page. You can also give us a call on the following phone number: +31 (0)180 557 844.