Fire protection: essential for in the hydrocarbon industry
Does your company operate in the hydrocarbon industry? Then fire protection is surely an essential component of your safety and health management. Environments with a high fire risk not only need active fire protection such as fire detectors, sprinklers and fire extinguishers, but passive fire protection as well. Avoiding or delaying fires can prevent serious damage to people, equipment and the environment. JetBlack offers unique customized passive fire protection systems that will help your company avoid dangerous fires.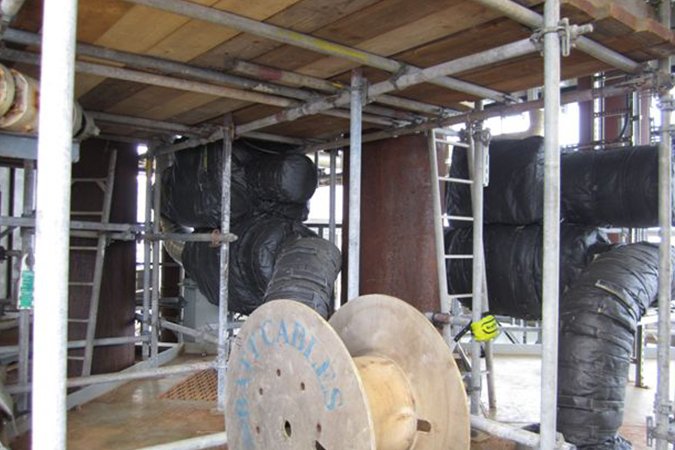 Contact us for more information
Fire protection: passive vs. active
There is some overlap between the two, but fire protection can roughly be divided into active and passive fire protection. Active fire protection includes the systems and equipment that put out fires. These systems are triggered and 'activated' when a fire occurs, such as fire extinguishers, sprinklers and fire detectors. Passive fire protection systems, on the other hand, are permanent built-in means used to contain a fire or slow down the spread of fire. These include coatings, casings, and special fire proofing materials that ensure that a fire cannot reach or escape from flammable equipment. Containing or slowing down a fire this way can buy valuable time to put out a fire and evacuate the premises.
Fire protection products by Jetblack
The fire protection products offered by JetBlack are fully custom-made solutions to protect your critical equipment and prevent (the escalation of) fires. Our products use special thick fire proofing materials and coatings which can be fitted to a variety of equipment and structures. All our products have been tested in DNV-GL in Spadeadam, UK and are ISO22899 certified. Together with Bureau Veritas a Quality Assurance System has been set-up to ensure a continuous quality of work.
JetBlack flexible fire protection system
The JetBlack flexible fire protection system is our signature product. We custom make it according to the needs of our customers, and can quickly be installed, removed and refitted by the maintenance crew due to its flexible composition. The fire protection system can house a wide range of valves and emergency shut down valves, including the ball, globe, butterfly, check, gate, dual block and bleed type.
Another essential piece of equipment are cable trays containing the power and data cables, which are critical in any plant or offshore rig. JetBlack's fire protection system can easily be fitted around cable trays and protects them in temperatures of up to 1,268°C for two hours. Similarly, other process equipment such as actuators, junction boxes, man-ways, and process vessels will also be well protected and accessible. Because of our custom-made approach, we can incorporate inspection hatches for easy access when in need of inspection or maintenance.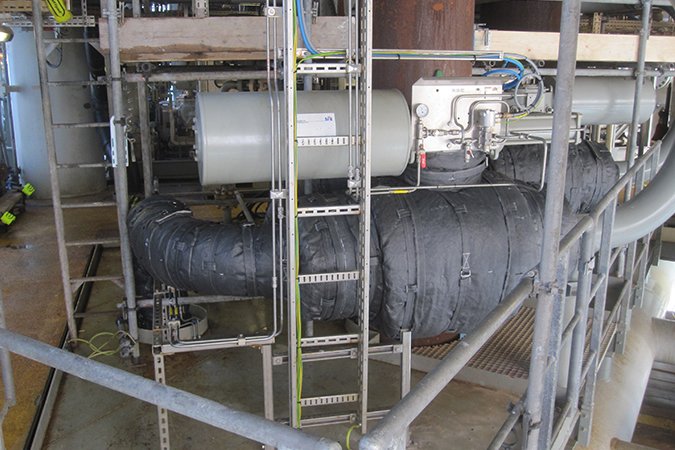 Contact us for more information
JetBlack's flexible fire protection system is capable of withstanding all onshore and offshore weather conditions, which makes it an ideal choice for protecting pipe runs and fittings such as tees, reducers and elbows.
IGNIS-PFP BOX™
The IGNIS-PFP BOX™ provides superior fire protection for the most essential equipment. The customized and certified protective box can be applied as a box, panel or wall made out of 316 stainless steel material with a composite multi-layer insulation core. The material used to construct the box are able to withstand extremely high temperatures for 2.5 hours. During exposure to extreme jet fire lead, the panels retain their integrity and ensure, thanks to the high-quality insulation core, for a relatively small and defined temperature increase on the inside. The stainless steel used to construct the box is corrosion-resistant and maintenance free, which makes it ideal for both outdoor and offshore conditions.
Contact us
Would you like to receive more information about JetBlack or our products? Please use the form on our contact page or send an email to info@jetblack-pfp.com. You can also give us a call on the following phone number: +31 (0)180 557 844.