Fire prevention to protect lives, assets and the environment
Fire danger is a severe threat for any industry. Most buildings and installations have a system installed to fight fires, such as fire detectors, sprinklers and fire extinguishers. But working in an environment with high fire risk also requires techniques for fire prevention. Avoiding or delaying full-blown fires can prevent damage to your personnel, assets and the environment. JetBlack offers a range of customised and certified fire prevention products for the hydrocarbon industry.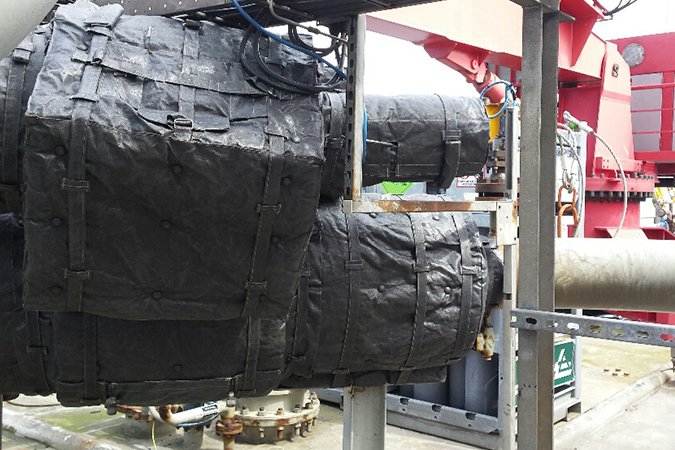 Contact us for more information
Fire prevention is essential
The oil and gas industry is one of the most high-risk sectors in terms of fire danger. A single spark along the extraction or refining process can have devastating consequences for human life, the environment and the rig or processing plant. Hydrocarbon fires are particularly dangerous. Such fires occur when a flammable compound leaks from a pipe or vessel and collects in a pool, which can cause a fire with temperatures over 1,100°C when ignited. JetBlack's fire prevention products ensure that critical equipment is protected from hydrocarbon fires by using special thick fire proofing materials and coatings. This way fires are less likely to spread and the time window is extended for firefighters to respond.
Fire prevention products by JetBlack
JetBlack offers customized fire prevention products to protect your critical equipment. Our fireproof insulation is tailored to your specific needs. Whether it is a piping system or oil drum, we will fit it with our special thick fire proofing materials and coatings. All of our products are ISO 22899 certified, and together with Bureau Veritas a Quality Assurance System has been set up to ensure a continuous quality of work.
JetBlack flexible fire protection system
The JetBlack flexible fire protection system is specifically designed so that it can be tailored to our clients' needs. It can be fitted to anything from emergency shutdown valves to process equipment such as junction boxes or cable trays. It is also possible to incorporate inspection hatches for easy access when in need of inspection or maintenance. The fire protection system is rapidly installed, removed and refitted by the maintenance crew due to its flexible composition. Its ability to withstand conditions on both onshore and offshore oil and gas facilities also makes it a perfect choice for protecting pipe runs and fittings.
IGNIS-PFP BOX™
The IGNIS-PFP BOX™ is the ideal choice to prevent fire inside rooms or areas with critical equipment. It is a customized and certified fire protective box, panel or wall made out of 316 stainless steel material with a composite multi-layer insulation core that provides superior fire protection. The stainless-steel panels used to construct the box can withstand extremely high temperatures and are corrosion-resistant and maintenance free. This makes it an excellent option for protecting equipment or rooms in both indoor and outdoor conditions.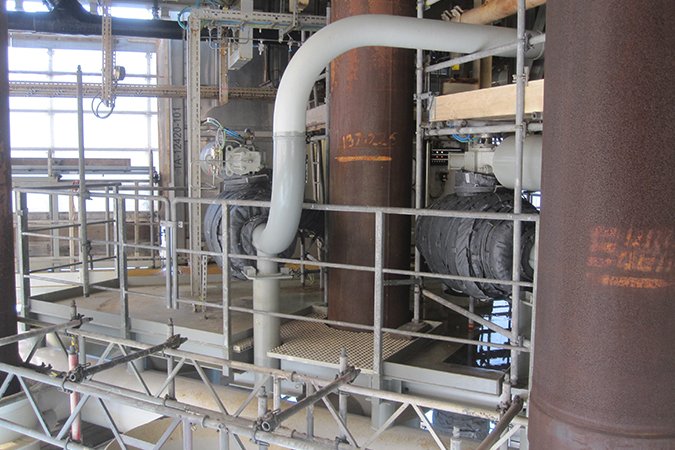 Contact us for more information
How are JetBlack's fire prevention solutions implemented?
We take a number of steps to implement our custom-made fire prevention solutions and ensure the highest possible quality. Firstly, we inspect the site and take measurements of the specific systems for which the fire prevention solution will be created. Subsequently, we use our Simu-Therm calculation system to make a thermal design. Next, we can start designing and engineering the custom-made product. When that is finished we take care of the project documentation. Then it is finally time to manufacture the product and run an inspection to make sure that it is of high quality. Once this process is finished, we will transport the final product straight from the factory to the site of the project, where it can be installed. The last step is a quality control procedure to guarantee that the product is properly fitted and will ensure maximum fire protection.
Contact us
Would you like to receive more information about JetBlack or our products? Please use the form on our contact page or send an email to info@jetblack-pfp.com. You can also give us a call on the following phone number: +31 (0)180 557 844.