Fireproof insulation to protect your critical equipment
Working with flammable equipment and products brings along significant risks. Whether your activities take place in buildings, factories, in the offshore industry, farms or on industrial sites, your company might be exposed to fires and explosions. Fireproof insulation can ensure that a fire is contained or slows down the spread of fire. This way damage is minimized and fire fighters get enough time to respond. JetBlack offers unique fireproof insulation that protects your critical equipment and ensures the safety of your employees.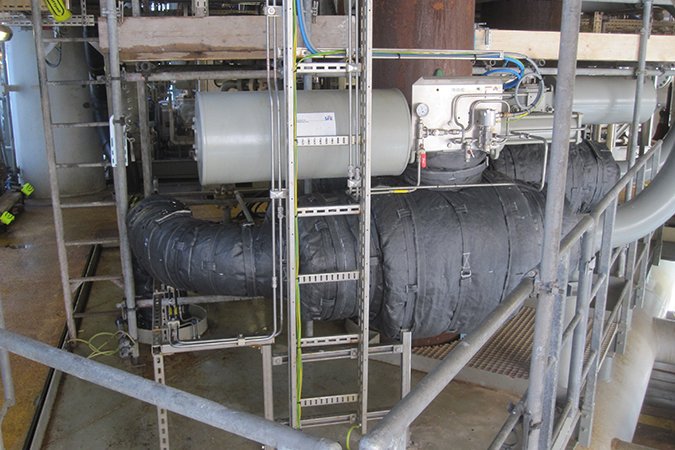 Contact us for more information
Fireproof insulation – why is it important?
When a flammable compound leaks from a vessel or pipe and collects in a pool, a hydrocarbon fire can occur. Such fires can easily reach temperatures of over 1,100°C within a few minutes and will spread extremely rapidly. The fire can cause direct loss of life or injuries, but can also cause serious damage to the structural stability of buildings and equipment. This can have additional disastrous consequences, such as further human harm, environmental damage and loss of capital investment. Fireproof insulation – also referred to as passive fire protection – therefore is a crucial element to prevent excessive damage. JetBlack's special fireproof materials can prevent fire from spreading, contain a fire or slow down the spread of fire. This gives fire fighters more time to get the fire under control before it spreads further and gets out of hand.
Fireproof insulation products by JetBlack
JetBlack offers customized passive fire protection solutions to protect your critical equipment. Our fireproof insulation uses special thick fire proofing materials and coatings which can be fitted to a variety of equipment and structures. All of our products are ISO 22899 certified, and together with Bureau Veritas a Quality Assurance System has been set-up to ensure a continuous quality of work.
JetBlack flexible fire protection system
The JetBlack flexible fire protection system is custom made and can quickly be installed, removed and refitted by the maintenance crew due to its flexible composition. The fireproof insulation system can house a wide range of valves and emergency shut down valves, including the ball, globe, butterfly, check, gate, dual block and bleed type. Process equipment such as actuators, junction boxes, cable trays, man-ways, and process vessels will also be well protected and accessible. Because we custom make our fire protection systems according to our clients' specific needs, we can incorporate inspection hatches for easy access when in need of inspection or maintenance. JetBlack's flexible fire protection system is also capable of withstanding conditions on both onshore and offshore oil and gas projects, which makes it an ideal choice for protecting pipe runs and fittings such as tees, reducers and elbows which will also need fire protection and insulation.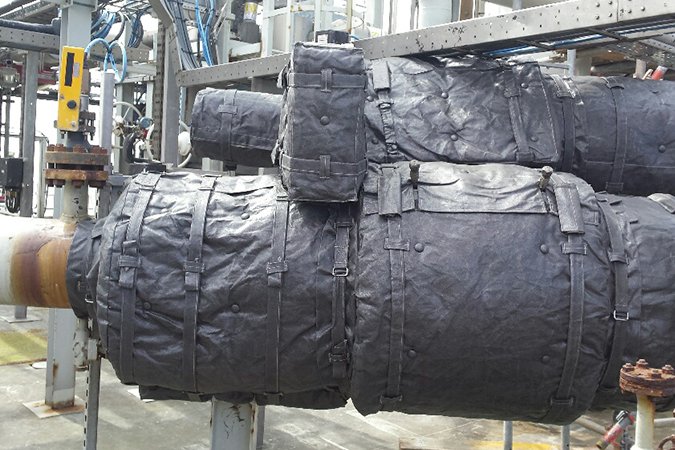 Contact us for more information
IGNIS-PFP BOX™
The IGNIS-PFP BOX™ is a customized and certified fire protective box, panel or wall made out of 316 stainless steel material with a composite multi-layer insulation core that provides superior passive fire protection. The panels used to construct the boxes have been tested at flame temperatures of 1,150°C and can ensure fire protection for 2.5 hours under extreme jet fire load. While exposed to heavy fire, the temperature on the inside of the box will only increase with a comparatively small amount. The stainless-steel panels used for construction make sure that the box is corrosion-resistant and maintenance-free. This makes it an excellent option for protecting equipment or rooms in both indoor and outdoor conditions.
Interested in JetBlack's fireproof insulation products?
Are you interested in our fireproof insulation products and would you like to get more information? Please use the form on our contact page or send an email to info@jetblack-pfp.com. You can also give us a call on the following phone number: +31 (0)180 557 844.